Are Escape Rooms Fun?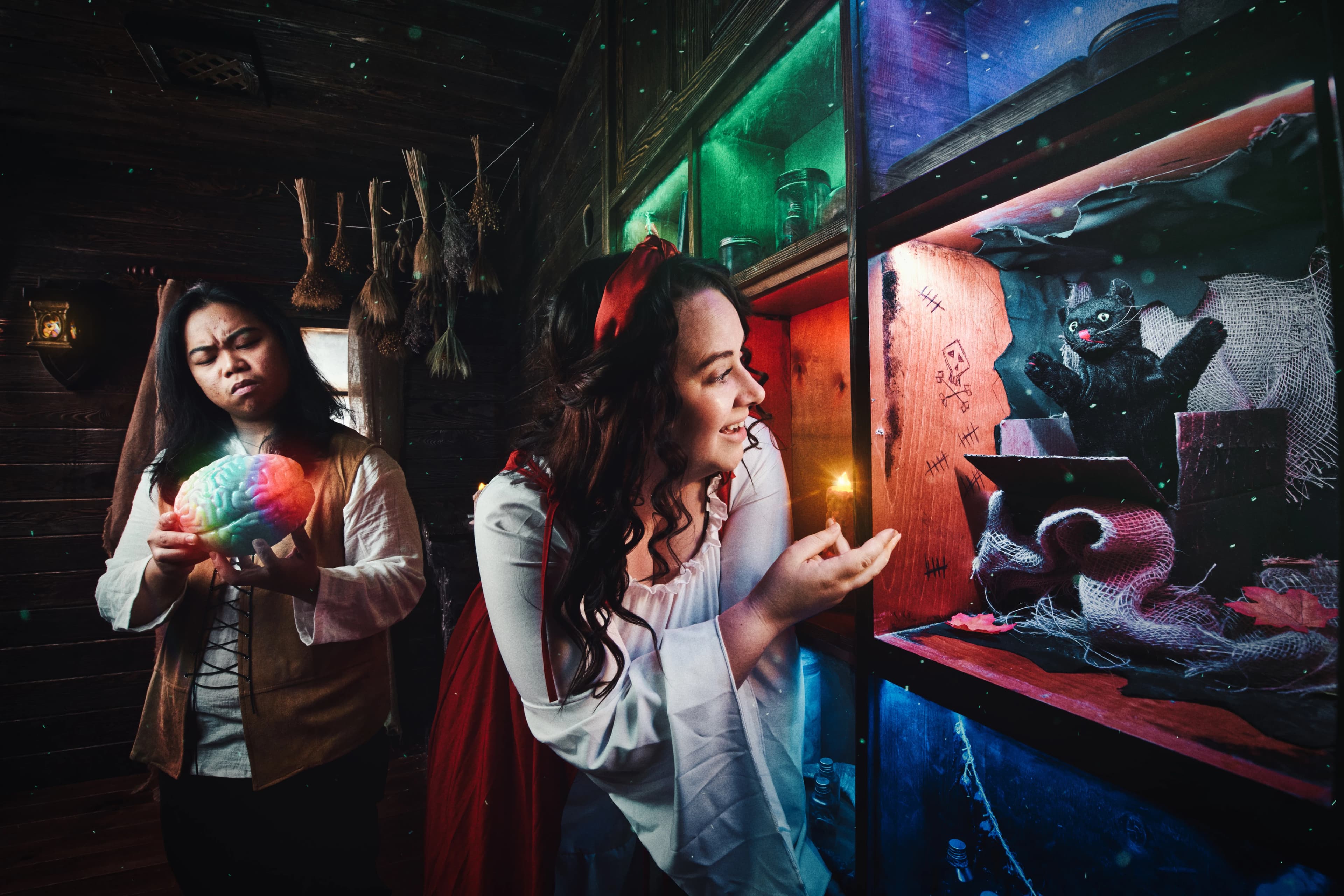 Escape rooms — the latest craze taking the world by storm — are a fun, interactive way to spend time with family and friends. In these immersive, real-life escape challenge games, groups of people are locked in a room and have to work together to solve puzzles, riddles, and clues in order to unlock the door and "escape" within a certain time limit.
From family reunions and birthday parties to corporate team-building activities, escape rooms offer the exciting challenge of puzzles combined with the thrill of an interactive experience. So why are escape rooms fun — and what makes different escape room styles worth trying out?
What Makes Escape Rooms Fun?
From the immersive atmosphere to the unique puzzles, there are many reasons why escape rooms are fun. Let's take a look at some of the unique ways escape rooms can keep you entertained.
The Design Immerses You In The Story Escape rooms are designed to create a realistic, immersive environment. Players become part of the story and feel like they've stepped into another world. For instance, you may solve puzzles in a post-apocalyptic world or search for clues to solve a murder mystery.
By adding elements of realism, such as props and sound effects, escape rooms create a truly unforgettable experience. At Questroom, we combine innovative tech and creative design to create a one-of-a-kind escape room experience.
They Offer A Personal Challenge Studies show that individuals are driven by varying levels of difficulty. We like to be challenged and test our problem-solving skills. Yet some puzzles may work for some while being too easy or difficult for others.
Escape rooms offer unique puzzles that challenge each individual's mental and physical ability. This allows players to feel a sense of achievement when they solve the puzzles, making it truly rewarding.
For example, the Questroom experience Polar Station drops you into the life-altering experience of waking up in an abandoned polar research facility — with only 30 minutes to find a way to communicate with rescuers! Whether you want a thrill or a puzzle, there are fun escape rooms for kids and adults that will scratch your itch for adventure!
Escape Rooms Are Fun For Everyone Why are escape rooms fun? Part of their appeal is due to their ability to engage all ages — from kids to adults alike! Simple escapes may provide enough entertainment for younger adventurers and test their problem-solving skills. More complex escapes may offer an engaging experience for seasoned escape room veterans.
Additionally, there are many different types of escape rooms to choose from. There's something for every taste and level of skill — from heart-pounding horror to lighthearted mystery games.
Challenges Can Awaken Creative Thinking Is your team struggling to find synergy on projects? Escape rooms can be beneficial for employees and entrepreneurs to practice creative problem-solving skills.
These activities also promote team building, as players must work together to solve puzzles and complete the mission. Research into creative problem-solving shows that these activities can lead to a more diverse and innovative workplace. The same holds true for friend groups and families as well!
At Questroom, our team has created puzzle designs that are unique and creative — making "out of the box" thinking a requirement to escape the room!
Fun Brings Your Inner Child To Life When you were a child, did you ever imagine being part of an adventure story? Or did the stories of Sherlock Holmes and his crime-solving abilities captivate you?
Escape rooms allow adults to step into the shoes of their childhood heroes and become a part of an interactive adventure. By living out these stories, participants can experience real-life fun that's both thrilling and rewarding. When you can find fun escape rooms for kids and adults, you unlock the best of both worlds!
You Can Experience That Rush of Adrenaline Life can often become routine — which is why it's important to switch things up once in a while. Escape rooms offer that rush of adrenaline, keeping you on your toes and forcing you to think outside the box.
You may be racing against time or have to work quickly in order to succeed. This type of challenge is an exhilarating experience that combines mental and physical agility with problem-solving skills.
Cooperation Builds Relationships Escape rooms require teamwork and collaboration. Players must cooperate with one another in order to solve puzzles and complete the mission. In doing so, they build relationships and strengthen their bond.
These activities can also help promote communication skills in participants. Through working together, players must develop strategies, think outside the box, and come up with creative solutions. When you work through a fun and challenging escape room, you'll find yourself connecting with your teammates in a whole new way.
Discover A Fun Escape Room in Questroom
There are plenty of reasons why escape rooms are fun — and why you should give one a try at Questroom. Our escape room adventures provide unique puzzles, thrilling storylines, and team-building opportunities. Plus, there's something for everyone — our fun escape rooms for kids and adults offer a variety of experiences perfect for everyone in the family.
Overcome the dark curse of the witch in the woods with this live-actor escape room. Malediction will challenge your problem-solving skills and test your courage as you seek to break the witch's curse before time runs out!
You wake up groggy and confused after a night at your eccentric college professor's home. Something happened, but you can't quite remember. All you know is that you can't get out — and something else is inside with you! Will you figure out what happened — and why you can't escape?
Explore the scene of LA's serial killer's latest murder to try and uncover the clues needed to solve the case. But is the scene of the crime truly...empty? With live actors, intense suspense, and tricky puzzles — this escape room is a thrilling adventure for all!
As the city's most famous candy makers, you've been called on to make a special delivery — at a secret base high in the sky! Will you solve the villain's puzzles to escape in time?
Want to Have Some Fun?
If you are ready to experience the thrills and excitement of an escape room — why not give Questroom a try? Our fun and challenging adventures are perfect for kids and adults alike. Plus, with trained actors and unique themes — you'll find yourself immersed in the fun and excitement of a real-life escape room adventure!
So why not come join us for some fun? We can't wait to see you at Questroom! Learn more about our escape rooms and schedule your next visit online. You can also give us a call to set up your escape room adventure at 310-707-1240.
We can't wait for you to discover why escape rooms have become the world's most popular group activity! Book your next escape room adventure today and join the fun at Questroom!