What is an Escape Room?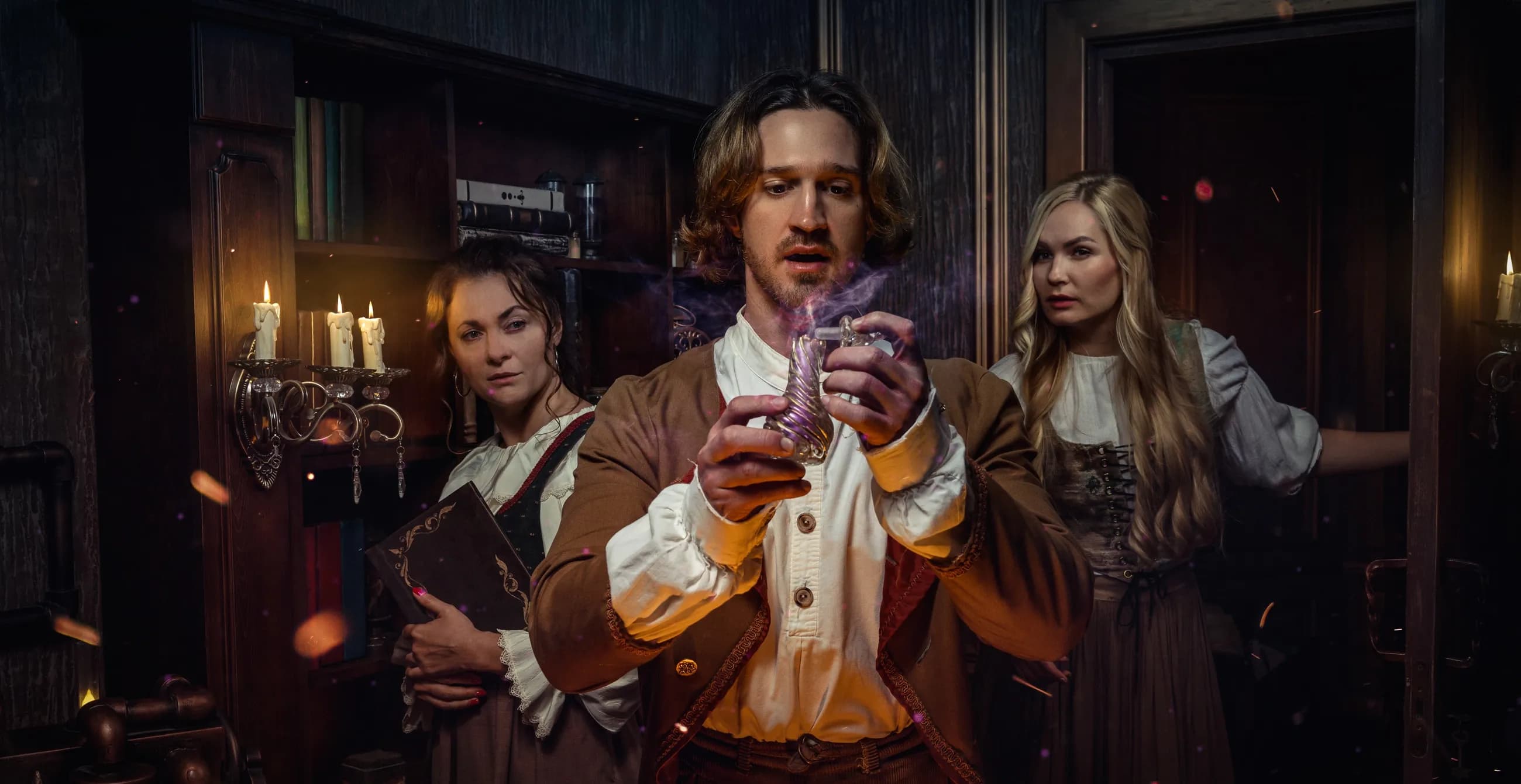 Escape Rooms are popping up all over the country now as a popular form of entertainment, and that popularity is growing every day. Puzzle games are nothing new, but the idea of going into a locked, enclosed space and needing to solve your way out by investigating, taking on challenges and working together as a team in real-life is something that has been drawing a lot of attention. But what is it and what do you do in an escape room? It is a themed experience where 2-8 players enter, get told a story, and hunt to find hidden clues to try to put the missing pieces of that story together to ultimately escape! These stories and themes vary greatly from historical adventures to crime dramas but the most popular ones tend to be prison escapes, haunted houses and magical rooms.
Why Should You Do An Escape Room?
You may find yourself wondering — What are Escape Rooms Like? What do you do in an escape room? You can't really know until you try it out! There are many reasons you should want to try out an Escape Room. At Questroom, our rooms are incredibly immersive — you will enter a whole new world for the time of your game and every moment will be memorable. With the detailed set design, the immersive story lines and especially, in our Thrill Theaters, the live actors bring you further into the plot of the game and make you feel the suspense, joy or fear more deeply. Escape Rooms are a test of skill and brain power where you race against the clock but they are also a wonderful way to bond with your friends and strengthen relationships. Collaboration is key, and the feeling of accomplishment garnered is wonderful when you beat the timer and succeed together to finish the story.
Who Can Play Escape Games?
There is no specific outline for who can do an Escape Room. One beautiful thing about the activity is that there is something for everyone! Bring your friends, colleagues from your company, classmates or family! At Questroom we recommend our youngest players be around 7 but all ages are welcome — it just depends on what the parents or guardians think is okay for their kids; we understand you know them best! There are plenty of options available that kids love — Red Giant, Spell Breakers and Warlocked are our top recommendations. If you are leaving the kids at home, or just want a night out with your older friends, we have plenty of rooms that adults love as well, some scary like Resurrection, Bloody Elbow or Project Minotaur, and some that are historical and beautifully intricate like Perfumer or DaVinci's Challenge!
Are Escape Rooms Suitable for Events?
Any event you want an activity for you can do an escape room! They work great for Birthdays of all ages, team building or family bonding. The need to work together towards a common goal is perfect for work colleagues who want to build their collaboration skills, and the feeling of achievement when winning is a perfect way to celebrate life accomplishments — graduation parties, promotions, bachelor or bachelorette parties or weddings! If you are looking for an original and fun first date or an anniversary event then an Escape Room is a perfect way to connect. They are easy to set up — you can book them online or over the phone, they can be moved with 12 hours notice if something comes up, and you can choose any theme you want that suits your event. Another popular thing to do for events is to host an Escape Room race! If you book two or more rooms in the same time slot you can divide up into teams to see which group finishes first. You can book the same room multiple times and send teams to do it at different parts of the day — this is very handy for companies who plan team building days across departments. Ultimately we are happy to help you find the perfect way to celebrate whatever your event may be!
What to Expect When Booking An Escape Room
Before you book, we recommend you read up on Escape Room Rules That Every Player Needs to Know! After you book a game with us the following happens:
You receive two emails — a receipt and a confirmation. That confirmation not only has a handy parking diagram based on the location you book but also a link to the waivers for your game!
You arrive for your game, where we have a locker for your belongings!
We go through the rules of your game with you. At this point we can answer any questions or concerns you may have. We also discuss the game's story to help set the scene for you before you enter the room.
The big moment- your game begins! Depending on what you book you will be in there anywhere from 30 minutes to almost two hours, with a character giving you hints on your journey and, in some cases, a live actor aiding or inhibiting your progress! The only way out is to solve the puzzles and finish your story; some puzzles will be based in logic, some are just dependent on searching the room to find keys, clues or information and some require helping your friends. There are tips and tricks of the trade of course, some of which can be found in our article 15 - Escape Room Tips for Your First Time Out.
Once you finish, we take photos in the space and answer any questions you may have before reclaiming your belongings!
Frequently Asked Questions!
Just like any new activity, there are questions people ask every time it is their first time doing an Escape Room. You can check our FAQ for a more extensive list, but below you will find answers to the most common questions we answer every day — you may even see answers to a question you didn't even know you had!
Are escape rooms scary? Not all of them are — plenty are just adventurous!

Are escape rooms fun?
In general; if you love solving puzzles, escape rooms are one of the best hobbies you can have.

Are escape rooms safe? If you act rationally, then yes. We have rules in place to protect you such as 'no running, jumping or climbing' that we tell you before your game starts.

Are escape rooms hard? Every room has its own difficulty level. Certain rooms are easier or harder but it really depends on you and how you think. At Questroom you get unlimited hints in almost every room so they can be as hard as you make them!

How big are the rooms? They vary. All Quest room rooms are multiple room experiences but some escape rooms can be quite small.

Do I have to be a master puzzle-solver? Not at all, we have plenty of people who have never done it before!

Will I be locked in the room? Yes, but you can get out at any time.

How long is an escape room game? Time varies, We have a 30 minute room but most rooms are 1 hour long. A few escape rooms are longer!

What happens if I don't escape in time? Depending on the room there may be a 'bad end' where you lose but in general the game will just end.

What if I get stuck? If you get stuck you can ask for a hint! You have unlimited hints in almost every room with Questroom.

Are escape rooms ADA accessible? Certain ones are but not all. Definitely call and ask before booking if you are worried and we will figure out the best options for you!

Do I need to do anything to prepare? Nope! Just fill out your waivers ahead of time and make sure you know which location you are going to.

How do I pick an escape room?
Our website has a lot of information to help choose the room that is right for you. Look at plots and difficulty ratings to give yourself an idea of what you may like.

How to book a game?
You can give us a call, or book yourself online 24/7.
Ready To Challenge Yourself?
Do you want to take on a room yourself? Challenge your mind against the clock at Questroom by booking online at Questroom.com! If you have any questions or need assistance feel free to call us at 310-707-1240 or email [email protected] and we will be happy to help you start your adventure!