Escape Room Rules That Every Player Needs to Know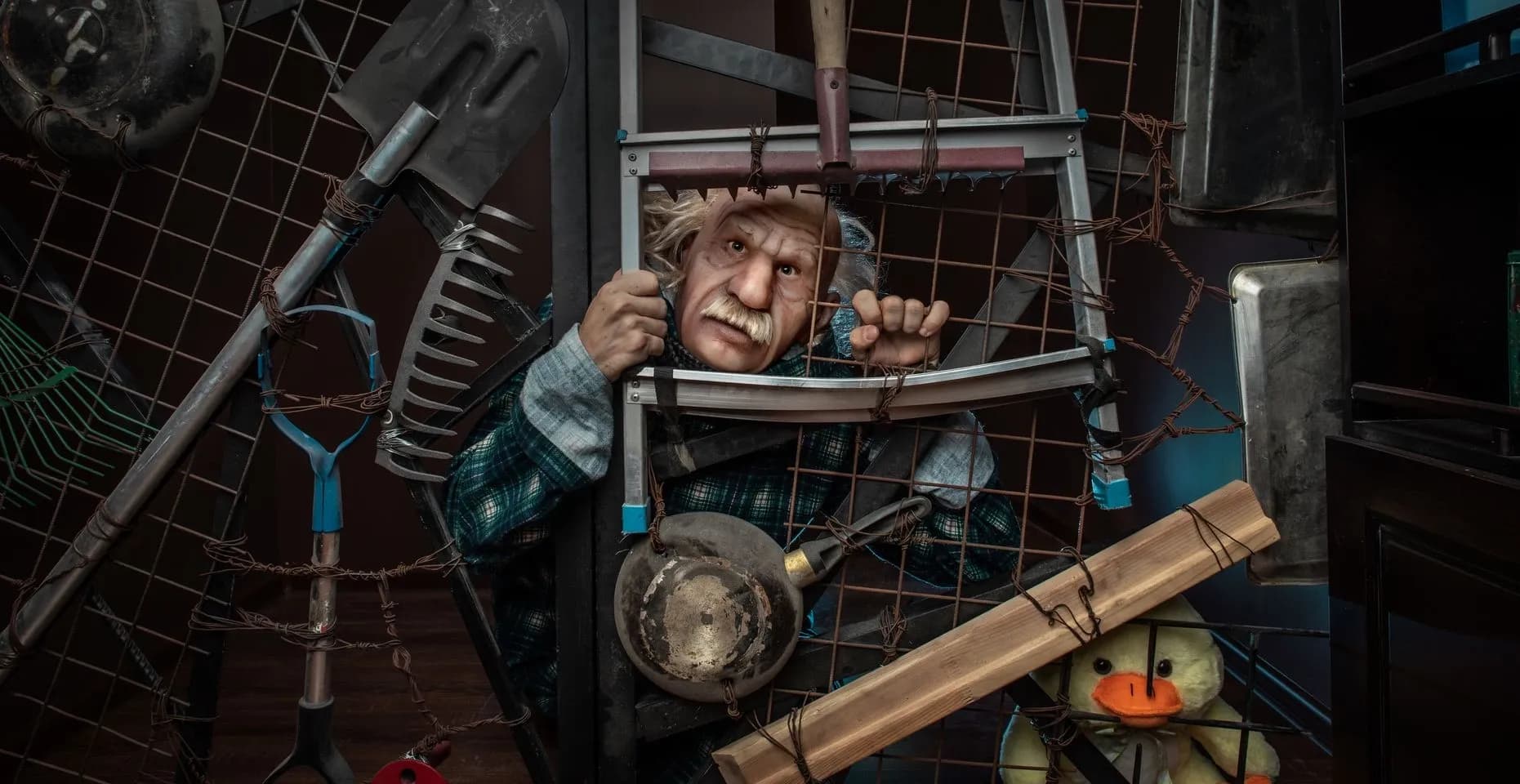 Escape room rules are designed to help you stay safe, have a great time, and best of all… win the game! If you're thinking about playing your first escape room, knowing the most common escape room rules ahead of time will put you and your team at an advantage and help you have a successful escape. <b> <b>
What Is an Escape Room?
Invented in Japan in 2007, an escape room is a real-life escape game based on computer games from the 90s in which you click on-screen objects to open a door. In an escape room experience, you and your team will have the chance to put on your Sherlock Holmes detective hats and test your wits in a timed event. The clues and puzzle pieces you find in the room will help you open drawers, unlock doors, and ultimately complete your quest. <b> <b>
Escape Room Objectives
You might have played an escape game before that's focused on opening the door (or a series of doors, as the case may be). However, escape games today utilize a wide variety of themes and objectives. Rather than opening a door, your objective might be to open a vault, crack a code, place an emergency phone call, or discover the formula for a cure. With the best escape rooms in LA at Quest Room, you can indulge in an even more thrilling experience with theatrical sets, live actors, and sensory clues. <b> <b>
Why Escape Room Rules Are Important
Before you book your session and again when you arrive, you will be given a run-down of the rules of the game. It's important to pay careful attention to the escape room rules so that you can maximize your time and beat the clock. If you don't follow the rules carefully, you may lose your booking or have your session terminated part-way. You might also hurt yourself or break something in the game, ruining what could have been a fun afternoon out with your friends. <b> <b>
Practical Escape Room Rules
These are the rules that keep everyone healthy and happy and the game functioning as it should. Review these rules carefully to avoid a surprise when you arrive:
Make a Reservation
Top Los Angeles escape room sessions can sell out fast, so it's essential to book before you go. Most escape room games cater to groups of 2-6 people and you can usually modify your booking as long as you don't exceed the minimum or the maximum number of players.
Changes to Your Booking…
For reservations that are paid for online, you usually won't get a discount or refund if you reduce your group size on the day. If you add to your group, you will pay for the difference on arrival. Reservations that are canceled by the provider will either be refunded or a gift token will be provided so that your team can play at a later date.
Arrive Early
Escape room rules ask that you arrive early—at least 15 minutes before your session is scheduled to begin. In these 15 minutes, you'll have time to go to the bathroom, ask any questions you may have, and discuss your strategy together as a team. You'll then enter the room and listen to the game master's introduction. After that, it's go time!
If You Are Late…
Because you're booking a specific time slot, teams or team members who show up late will have less time to complete their game. You might even lose your session completely. As no refunds are issued for missing your slot, choose teammates that are likely to be on time. You could also meet up beforehand for a coffee or meal in Beverly Hills to give latecomers ample time to arrive.
Arrive Sober
A meal before an escape game is great. Drinks at a bar before your game aren't so great. Playing intoxicated or under the influence puts you and your teammates in danger of injury, and let's face it, a drunk team member won't bring their A-game when it comes time to solve puzzles and clues. In fact, if they are visibly intoxicated, they might not even be allowed to play. <b> <b>
Getting Ready for Your Escape…
So when you've got an escape room booked, do a bit of research about the kinds of clues you're likely to find, put together a comfortable outfit (or a costume if you're so inclined!), and come ready to challenge your wits. You'll have a fun time putting your skills to the test and can celebrate with drinks afterward!
Go to the Bathroom before Your Session Begins
It might seem obvious, but going to the bathroom before your game is just plain common sense. You don't want to pay a hundred dollars for a cinema-quality escape experience and miss most of the session by leaving the game to relieve yourself.
You Can Always Leave
If you have a legitimate emergency, however, you are always free to leave the game—simply exit through the door you came in. However, you might not be allowed back in once you leave, so prepare ahead and only leave if you really must.
Forbidden Objects
Everything needed for escape room games is located inside the room, so you won't need to bring tools for researching or writing things down. Moreover, bringing items like cell phones and cameras can be a problem for copyright and security reasons, and if you're caught taking photos, you will very quickly be ushered out.
Dangerous Objects
In an enclosed space, there are several items that can be dangerous to have on you, including lighters, vape pens, matches, and knives. If there are any items at all that you need to have with you on the day, leave them with your bag in the locker provided or hand them to a staff member for safekeeping.
Biosecurity Escape Room Rules
During the COVID-19 pandemic, health and safety are the first priority for escape game staff members as well as players. The staff at the escape room game will perform a thorough daily clean in the room and disinfect and air out each room between groups.
Biosecurity Rules for Players
As far as players go, you will probably be asked to wear a face mask and maintain a social distance from other groups. Some venues may be subject to additional requirements set by their municipality, so be sure to check the latest requirements for Los Angeles before you book your game.
Don't Move the Furniture
In their fervor to find all the clues in the game room, some players might feel tempted to move the furniture and look for clues underneath, behind, and even on top of each piece. To discount this possibility, some rooms instruct the players not to move the furniture. If this is the case, you can be sure there is nothing hidden behind the bookcase and look for hidden objects elsewhere.
Don't Stand on the Furniture
See something that's out of reach? Rather than climbing up or standing on something, look for a tool to help you reach it. As mentioned earlier, escape rooms are meant to be beaten, so the clues should be accessible to all.
Don't Damage Anything
Escape rooms are designed to be beaten by regular people, so you won't be given puzzles or hidden objects that require a bodybuilder or brute force. If you're not sure if something is supposed to open, simply ask the game master. If not, turn your attention to the other things in the room—the answer might be right under your nose!
Obey the Signs
Likewise, a sign that says "Do not touch," "Do not open," "Do not climb," or "Not a clue," is not a red herring or just there for looks. There are some necessary objects in each room such as emergency lighting, fire extinguishers, and first aid kits that might be present but not part of the game, and if you interfere with an item that's off-limits, your team might be asked to leave.
What You Do There, Stays There
Escape room companies work very hard to create unique escape games that will challenge your wits and delight the senses, knowing that escape aficionados may visit dozens of rooms. So, once you exit the door, it's "Mom's the word" on details about the setting, clues, and twists in the plot. You don't want to spoil the surprise for others who may visit the same room as you! <b> <b>
Strategic Escape Room Rules
These are the escape room rules that will give you a good chance of escaping the room within the hour. Following rules like these with your team will help you solve the puzzles and escape the room:
Designate a Clue Repository
At the beginning of the game, designate a central spot where the team members can place the various clues they find. You'll save a lot of time spent on re-finding the same clues and can try different methods for solving the clues and puzzles that arise.
Designate a Discard Pile
Most escape rooms are designed so that each clue is used only once. If the game master mentions this rule, create a discard pile at the start to avoid wasting time trying keys that have already been used.
Work in Pairs
As they say, "two is better than one." In an escape room, working in pairs can help you find something you've missed or look at a puzzle in a whole new light. Your buddy can also go over the nooks and crannies you've checked and might just spot a clue you missed.
Speak Loudly
The other key to escape rooms is communicating with your team. If you find clues or have an idea, say something and speak loudly! Likewise, listen to your teammates. Their idea might just help you solve the puzzle that's got you stumped.
Get Down Low
Escape rooms are bursting at the seams with props, clues, puzzles, and codes, and you'll have a better chance of finding them all if you search both high and low. This is a great opportunity to use the strength of numbers as well—send your taller members searching high and children (or those with strong knees) to search down low.
5-Minute Puzzle Rule
If you've already spent five minutes trying to figure out a puzzle, let someone else have a go. You might be sure you're the only person who can solve it, but a different point of view, a different skill set, or a teammate with additional information might be exactly what's needed to solve the puzzle. <b> <b>
The Most Important Escape Room Rule
Escape rooms are exciting, stimulating, and sometimes put your patience to the test. However, it's important to remember that the fun is in the playing of the game. If you don't win, you can always come back at a later date and try the escape room again.
So if you're new to escape rooms, remember to pay attention, follow the escape room rules, and work as a team. While you might not win the game on your first try, you're sure to have a fantastic time!