10 Reasons Why Escape Rooms are an Excellent Team Building Idea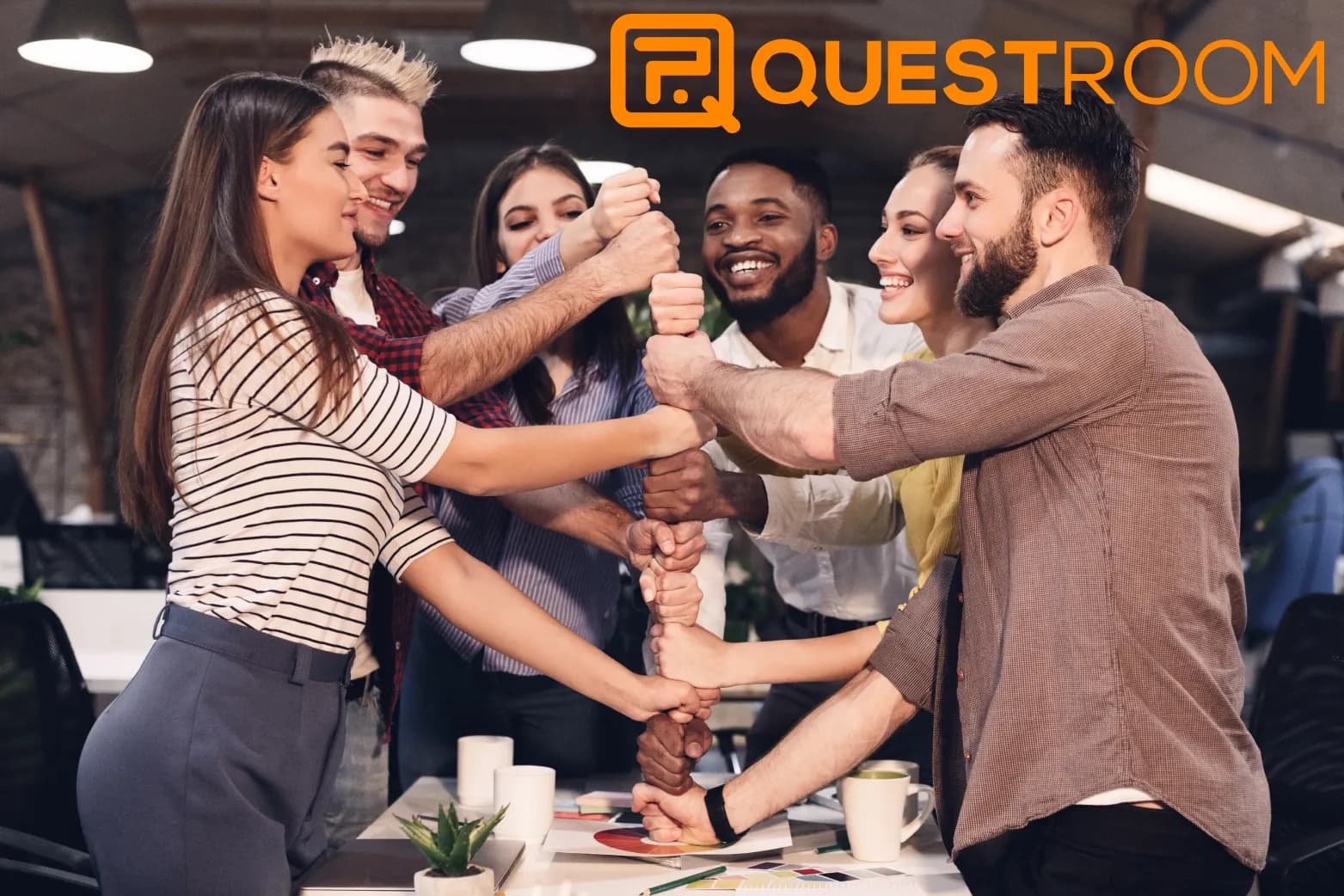 No matter the size of your team you will eventually want to do some sort of team building. Maybe you have two departments merging, you have an office party or you need an ice breaker event for a new group. Let us introduce you to the next big event for your corporation; Escape Rooms.
An Escape Room is a wonderful and creative way to get to know people better. Working together to solve puzzles, move further through the experience and escape as a team builds the skills and relationships you want to grow. Scheduling them during regular working hours means your team gets to take the adult version of a field trip! Break up the week of hum drum work, book out an entire location for that party and cycle through various rooms with different teams — you can even race to see who escapes first! If you've been looking for an out-of-the-box way to team bond then check out the reasons you should book a room below.
Benefits of Holding Corporate Parties in an Escape Room
Escape rooms are coming up fast as a new team building event — here's why!
Escape Rooms are Affordable
Compared to other methods of entertainment, escape rooms are on par price-wise with other more classical forms. A night at the movies, with popcorn, candy and a drink can easily cost 30-40$ for an individual and you just sit and watch. For an escape room you can plan to pay around the same for an hour-long experience that is far more engaging; not just staring but actively being a part of the story!
There are Many Different Themes
Some people only do scary escape rooms. Some people avoid them like the plague. While scary vs not-scary is a hot debate it can cause an oversimplification of what your options are. There is an escape room for anyone and everyone! Pirates, murder investigations, prison breakouts, fantasy adventures, tomb raiding and crazy experimentation; the possibilities of what you can theme an escape room with is endless and theres so much to choose from. If you could watch it on a screen or stage, it can be made into the plot of an amazing and fun escape room!
See Who Has the Skills You Need
One big benefit to using escape rooms as a team building exercise or corporate event is that you can witness the skills of your employees in a casual environment as they take on new challenges. They are being themselves here, different from how they act at the company. Thinking out loud and reasoning through the puzzles right in front of you. Who takes the lead on the first task? Who makes sure everyone gets equal participation and reward? They'll show you a more honest side of themselves and their ability that will naturally come out in the game!
Develop the Skills to Lead
If you are a worker attending an escape room for team building then you read what we said above; this is a great chance to experiment and prove your leadership capability! Take point on a puzzle or two, show your problem-solving capabilities — it's extremely empowering to learn how to navigate leading a team in a non-hostile or competitive environment with low risk like this. Think of it as gambling with monopoly money!
Learn how to Beat the Clock
As you play more and more rooms you'll learn methods to save time in escape rooms. There are thousands of articles on Do's and Don'ts, things to look out for etc. For a large portion of enthusiasts trying to get the lowest possible time is a major factor of their enjoyment of doing Escape Room games. While we prefer to say the journey is what matters at Questroom, we do understand the value of time management and knowing when to ask for help and when to push forward on your own. Escape rooms are a great way to build skills in managing your own time and how to prioritize.
Think Outside of the Box
Solving puzzles in an escape room really puts you to the test! It can force you to bend the way you think to fit the room. This is a wonderful way to teach yourself to see different perspectives. Look at something from a new angle; see patterns you wouldn't notice and more. You find yourself noticing details and piecing things together in new ways. If you want a good way to broaden your way of thinking, take up Escape Rooms as a hobby.
Increase Happiness
This may sound like we are rehashing several things on the list but it is cool to note that chemically, Escape Rooms make you happier! Yes, chemically. Your brain releases dopamine when you achieve goals, no matter how big or small they may be. Dopamine makes you feel good — it assists with lowering stress, increasing your focus and memory and basically helps motivate you to work smarter and harder!
Boost Camaraderie
Teamwork makes the dream work. No player escapes alone. Escape rooms are inherently a team-oriented activity. Whether you take the lead or stand back to watch, ultimately, everything you do is for the good of the team. Communication is key. Maybe you'll find the final piece to the puzzle or maybe you are the first to catch on to the next big clue in the room — either way whatever you do builds on the work and ideas of those with you and the joy of finishing together sticks with you — the team that plays together stays together after all!
Increase Confidence
Seeing how well you can do in such a concrete way can really help pump you up. In the day to day lives of typical workers it can be hard to get immediate positive or negative feedback. Most of your work goes into the machine and you get a lukewarm feeling of completion. You definitely did it, but how good are you really? What do you need to improve? It can weigh you down and imposter syndrome is not new. With games like Escape Rooms, you can tell immediately where you flourish and grow those skills. You can find exactly what you excel at in an obvious way and use that to help yourself become more confident before branching out into growing new skills!
Memories
Above all, an Escape Room is an event you share. Our goal is to leave you and your team members with an experience you'll remember for a lifetime. Whether it's fear, joy, excitement or nervousness we want you to feel strongly. At the end of the day you will have gone on an adventure that you'll talk about around the water cooler for years!
How to Schedule a Corporate Event
It's easier than it looks!
If you are interested in booking a game to get this experience yourself then contact us! You can book online or if you think you'll have more than one game email [email protected] and a manager will send you a few key questions to assist connecting you with the best location for you. From there we help build your event with you to make sure you get exactly what you want!
Points to Consider
Benefits to your event.
We are here to make your event as seamless as possible. All of our locations have parking available but we do encourage carpooling if you have many participants as our LA locations have more limited parking. We also encourage you to know who is playing what game ahead of time. This is very easy if you have a small team and only one regular game is booked or if you've booked an escape room for large groups — but if you have a larger group that can't fit in one room you will need to divide into several rooms and you will want to assign participants to their rooms before arrival. You will also want to fill out all of your waivers before you get there so that we can get you started quickly and you spend more time in your game! If you book out a whole location for several hours, you can always order catering and spend your time between games mingling in our lobby areas! We can't wait to see you for an event so you can get all these benefits and more.
Are you Ready for a New Experience?
Reach out and we can help you start your Adventure!
You can book online or with one of our employees; we recommend once you know when you want your event to be to book it as soon as possible! We work on a first come, first serve basis so you want to get your event locked in. Feel free to give us a call at 310-707-1240, but the best way to reach out if you have questions about bigger events would be to email us at [email protected] and a manager will assist you in planning your big day!