How to Plan the Ideal Escape Room Proposal: Tips & Ideas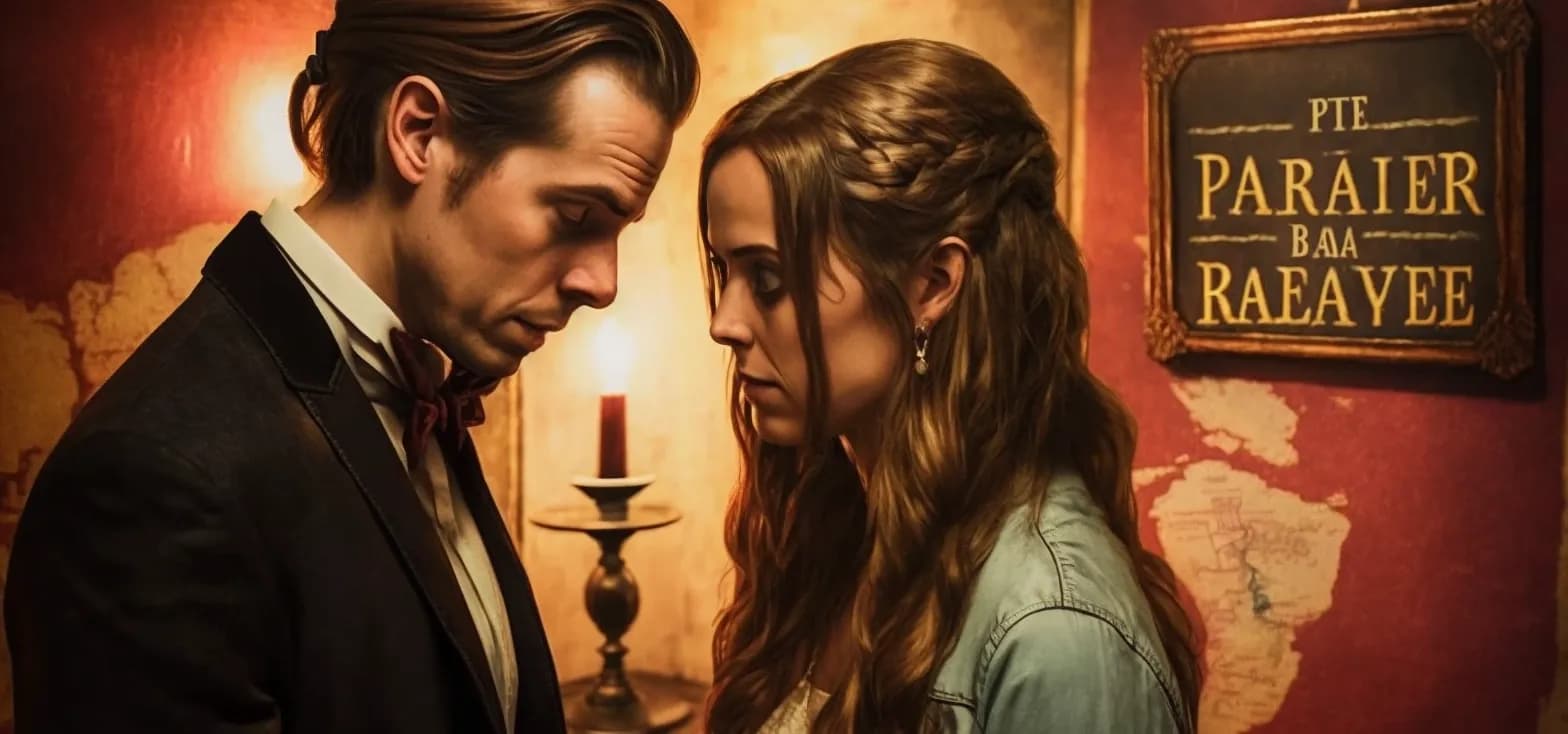 Are you looking for a unique way to propose to your partner? An escape experience proposal is the perfect way to make an unforgettable and exciting event. With some planning and creativity, you can create a memorable experience that your soulmate will never forget.
Escape rooms provide an interactive setting where couples can solve puzzles together to "escape" from the venue. This type of proposal gives you the opportunity to show off your ingenuity while also expressing how much you love them.
But you only get one chance to make it perfect, so we've put together a guide with escape room proposal ideas and tips to help you plan an event that your partner will love.
Tips for Preparing the Perfect Wedding Proposal in an Escape Room
We have gotten several proposals for a ton of our rooms! Individuals propose in all types of rooms, even the scary ones. Our game Amnesia had 2 proposals within 2 months last year for example, despite the room being a thriller game.
Our most recent proposal was done in our most popular game, Warlocked. We can't tell the stories without too many spoilers, but we can tell you that people love taking moments of high adrenaline or the climax of the game to have their special moments.
We love people calling and asking if we can help them plan this moment and we are always willing to adjust the games to fit what you want your special moment to be. Usually, the person proposing will call ahead and ask for a meeting to talk through the game plan and get everyone involved on the same page. Proposals happen around 3-6 times a year, and it's steadily getting more popular!
It is a wonderful thing to be a part of and get to see the reactions of the person being asked. I think it is public enough to be a spectacle but private enough that there isn't the pressure to just say yes the way there is in a restaurant or crowded public space.
Because our games are private it is usually just the couple and maybe some close friends. It makes it both a spectacle and an intimate moment for everyone!
We love helping our guests plan and pull off the perfect escape room engagement, so here are some tips for ensuring your proposal will be a hit:
Involve Family and Friends in the Planning Escape experience engagements are some of the most exciting moments to be a part of. So why not involve your family and friends in the planning? This will help build anticipation for your big moment and ensure that everyone involved can experience it together – making it an even more special occasion.
You'll want to make sure to plan ahead to ensure that the specific room you are considering for your proposal can accommodate all of your guests. Even if you opt for a smaller escape room, you can invite family and friends to join you in the fun once you've popped the question!
When you bring family and friends into the mix, you can create a truly unforgettable experience that your partner will never forget.
Get The Staff On Board Another great way to pull off an incredible proposal is by working with the staff. Game masters are more than ready to help set the stage for your big moment. If you reach out before your booked experience, you can relay your plans to the game master, who can prepare a few surprises – like extra decorations, special music, or even a celebratory toast!
Want to really set the stage? Get the drop on the puzzles ahead of time and whiz through like the hero your significant other knows you are! This will wow them with your savvy detective skills and give you plenty of time to pull out the ring and pop the question.
For our most recent proposal in Warlocked, the live actor was a big part of setting up the moment, directing the bride-to-be to stand in specific ways and do certain things that led up to that perfect moment. We love to help our game masters set up the perfect surprise for our guests, so don't hesitate to let us know about your plans!
Choose an Escape Room Theme Your Partner Will Love... The last thing you want to do is derail your proposal before you've even arrived at the big moment! To ensure that your partner is genuinely enthused by the experience, choose a theme they will love.
If you're unsure of what to pick, ask around and get some feedback from family and friends. Whether it's a scary escape or one with an intriguing storyline, ensure that the puzzles provide just enough of a challenge to make it enjoyable.
The sky is the limit when picking an escape room theme, so take your time and pick one that will leave a lasting impression.
And if you aren't sure which one will best fit your needs, you can check out our full listing of different experiences — and their descriptions — online here! Our friendly staff is also ready to get you started on planning the perfect escape room engagement proposal.
But Don't Let the Theme Get In The Way! On the topic of themes and styles of rooms, it's vital to ensure that they don't overshadow the actual proposal. While we know there is a lot of fun with decor and set pieces, make sure your partner knows you are taking them to an escape room because it's special for both of you – not just because you think it will make for an exciting story.
Make sure you know if the theme will be too intense for the occasion. Plenty of escape room themes are perfect for proposing in; let us help you find one!
This is where your Game master and planning come in. If you choose an intense theme, you need to know the best moment to make your move. We can walk you through the best times to pop the question for each experience. If you are waiting for that climactic ending, there is a chance that it includes loud music or bright lights.
Our team can delay those effects, so you get your moment instead — we promise your partner's response will be WAYYYY more climactic for your lives than getting the game's standard ending. The proposal is the star tonight — so make sure it stands out!
Tailor the Proposal to the Theme One of the best tips is to tailor your proposal to the theme of the escape room you choose. This will make sure that the experience is unique and memorable, as it's tailored specifically for the moment. Rather than try to fit the experience into a proposal, you will want to try to ensure the escape room adds something special to the moment itself.
For instance, considering making it seamless with the environment to the point that it feels like the escape room made your proposal inevitable. You can also introduce props, puzzles, or clues that lead to the big moment.
Having your ring box hidden in the room as a prop, having the live actor bring it to you, or having everything set up already deeper into the game can make the moment feel fully immersed in your experience and show your partner just how far ahead you've thought to make this moment happen. These are just a few ways to bring a unique feel to the special time together!
Get A Feel For The Room To Guide The Moment Don't go in blind — take a few moments to get a feel for the room. Look around and take in the atmosphere (without ruining any puzzles). Talk to your Game Master ahead of time, too — they can tell you all about the story behind the experience and what kind of surprises you might find inside.
As long as you communicate your plan to the team, we will always make sure you reach the goal. We can give you tips ahead of time on how to solve things to look good in front of your partner, and we will give hints and nudges to make sure you reach your special moment.
Decide How to Reveal the Ring The big moment has arrived — it's time to reveal the ring. Now that you have a better understanding of the room and your Game Master is aware of what's happening, you can figure out how you'd like to present it.
We always recommend planning the proposal moment at the end of the room. They get to experience the entire game (which will be a way more important memory than they realize) and then you get to the big ending! If the proposal is any earlier, you don't really get to play the game. However, the choice is up to you - especially if you are doing a room you have both already played together.
Plan The After Party! Once you've popped the question, it's time to party! Why not plan to have friends, family, or even a photographer waiting for you and your partner after the escape to celebrate?
This is when you can really go all out with decorations. Make sure there's plenty of champagne, cake, and confetti to truly commemorate the special moment! And don't forget — if you really want to make the celebration a blast, you can reserve a private room at our escape game center and host a private after-party for you both.
Ideas on How to Make this Day Even More Unforgettable
So how can you make sure this escape room proposal is one to remember? We've got you covered with a few ideas!
Make Sure It's a Secret
Don't give away the plan to your partner! Even if you plan it out with a few close friends or family, make sure they know how important it is to keep the secret. Only entrust your plans to your closest confidants — and the escape room Game Master!
Don't Give Away The Surprise
Some special moments can give away the fact that you are about to propose. Why not make it seem like the escape room is their own idea? You could have us send a follow-up email to your partner about a new game reveal or experience — asking them to come back (and possibly spurring them to invite YOU.) This works if you've played one of our games already.
Be Adaptable and Ready For Anything
We all know how unpredictable these days can be, and the same applies to escape room proposals. So if things don't go as planned — don't worry! You can always adjust and come up with creative solutions on the fly. And your Game Master is there to help you every step of the way!
Don't Forget The Camera
Finally, make sure you have a camera or phone handy to capture all the special moments! Speak to the manager about how to capture the moment. We do not typically allow filming, but we have allowed it at specific angles and/or with the game master filming for you. That's why it is so important you plan this out with us so we can make sure you have the memory captured forever if you want it!
Things to Consider When Organizing an Escape Room Marriage Proposal
Don't forget the finer details when planning your escape room engagement proposal. Here are some of the most important things to consider.
Will Your Escape Room Be Right For Your Partner? It's essential to make sure that the escape room you choose fits your partner's personality. If your partner loves puzzles and challenges, you can choose a game that is more difficult. But if they are more of an adventurer, you might want something that has a story-driven narrative.

Do You Need Help From The Game Masters? Yes. Always reach out and ask for help. If you don't we may accidentally steamroll your important moment, and our team would hate for that to happen! Our games have a specific game flow, and if we aren't in the know with you it could ruin the moment.

Who Else Should Be Involved? If you have a big family or lots of close friends, you can make the occasion even more special by having them join in on the fun. Invite them to your after-party and celebrate with everyone!

What Should You Wear? When it comes time for the proposal, what you wear can make all the difference. Think about what your partner would like to see you in when they open the door or if you have a special outfit picked out just for that day.
Why is Your Special Day Worth Entrusting to Questroom?
Organizing a proposal in Questroom is worth it because we provide an exciting and suspenseful way to make your special day unforgettable.
We have various escape rooms designed to fit any personality, and our helpful Game Masters are there to help with details like hiding the ring or capturing the moment on camera.
Contact our team today to get started on your escape room engagement proposal. We are excited to be part of such a special moment in your life, and we can't wait to see the surprises you have in store for that special someone!
Online booking. Phone: 310-707-1240. Email: [email protected]