How Long Do Escape Rooms Take?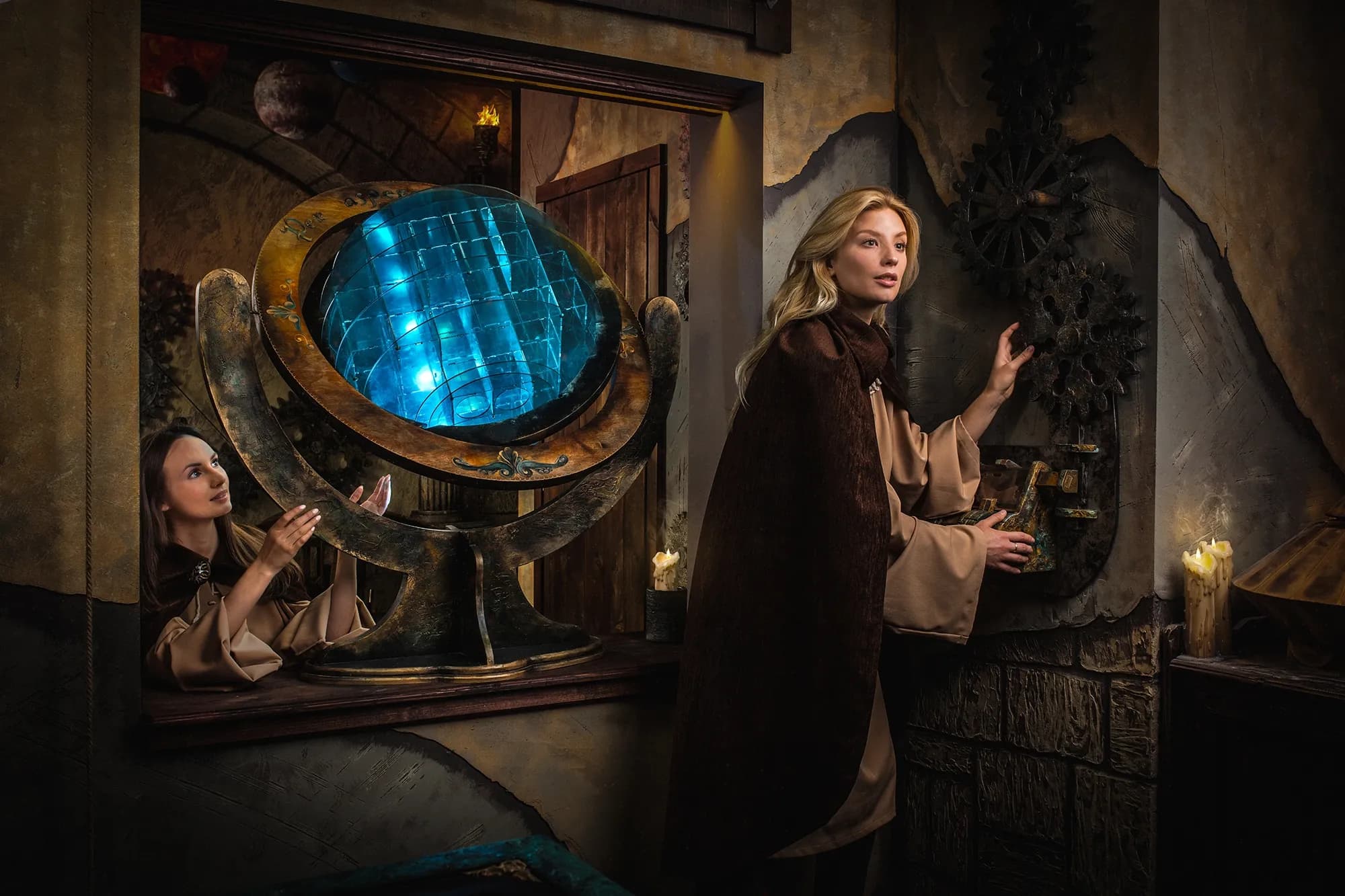 Are you looking to add excitement and challenge to your next team-building activity? These adventures offer an innovative way for teams of people to bond and work together in a fun, interactive environment.
But how long is an escape room? And how much time should you plan when you book your next quest?
Read on to learn more about the typical length of an escape room and how to plan your next adventure with Questroom.
How Long Does an Escape Room Last?
Escape rooms come in various sizes and themes - ranging from short, one-room challenges to full-fledged multi-room adventures. The length of an escape room can vary depending on the puzzles' complexity, the space's size, and the number of people participating.
For planning purposes, you can expect an experience to last an hour. At Questroom, we offer a variety of puzzles with different lengths — ranging from 30-minute rooms for quick thrills to 100-minute adventures with challenging puzzles and multiple rooms.
By providing a variety of lengths and themes, you can find one to fit your goals, schedule, and budget.
Why Do Standard Escape Games Last Only for an Hour?
It may seem counterintuitive to limit an experience to only an hour, but it's a great length of time for a successful and enjoyable escape room experience. Why keep your escape room time limited to around sixty minutes?
Shorter Times Increase The Thrills The more pressure that's applied to solve puzzles and escape, the more exciting it is. Limiting the time also helps keep players focused on their goals and prevents them from getting stuck in a difficult puzzle.

Limits Balance Fun and Challenge An hour-long adventure creates a sense of challenge without making it too difficult to complete. Experienced players can feel like they're up for an enjoyable challenge, while beginners won't be overwhelmed by the pressure of a long game.

It Fits Within a Busy Schedule An hour is a perfect length for players who may have a limit to their free time. Whether you are adding a quest to your date night or fitting an experience into a working lunch, an hour gives you enough time to have a thrilling experience without sacrificing the rest of your day.

You'll Need Time To Learn The Rules & Celebrate After When you arrive, your game master will give you a full overview of the rules, set up the story for your room, and answer any questions. Once your experience is over, there's plenty of time for players to take a group photo and celebrate your win (or almost win!)
Are There Quests That Last More or Less Than Sixty Minutes?
At Questroom, we create thrilling "Quests" that range from 30 minutes to 100 minutes.
Our shorter experiences are perfect for those who want a quick thrill or a fun activity for the whole family, while our longer multi-space rooms provide an immersive experience for more experienced players.
For example, our popular quest Polar Station is a 30-minute room. This shorter, more compact experience is perfect for a quick escape adventure that offers a fun challenge. On the other hand, our multi-room Thrill Theater experience Project Minotaur is a 100-minute, 1600 square-foot escape room that challenges players with a complex story and puzzles. By adding the right amount of fear and puzzles, you can create a thrilling memory that won't take up too much of your day.
The Main Thing is Victory! How To Solve All The Riddles?
While puzzles are an integral part of escape rooms, we know that a player may need assistance to complete the challenge.
All of our rooms have multiple levels of difficulty and provide hints should you get stuck. At Questroom, we strive to create an enjoyable escape room experience that allows players to work together as a team and come out successful in the end.
No matter what type of escape room adventure you choose, here are some tips to help you reach the glory of victory:
Communication Is Key Talk to your team and brainstorm solutions. Even if you have an experienced player in the group, everyone should be encouraged to share their thoughts and ideas.

Use Your Time Wisely Every second counts in an escape room! Prioritize tasks, delegate roles where necessary, and use a hint when needed. (We offer unlimited hints to keep you on track.)

Don't Waste Time Going Backward When you've reached a dead end in your escape room adventure, don't waste time trying to solve the same puzzle again. Move on and come back to a task later if time allows.

Try A New Perspective Get stuck? Try looking at the puzzle from a different angle — literally. A challenge can look completely different when viewed from a hidden angle. Keep notes and use your observations to help you find a new clue!
Ready To Escape?
Now that you know how long do escape rooms last, it's time to start planning your escape room adventure.
Whether a 30-minute challenge or a longer multi-room quest, escape rooms are the perfect way to have an interactive and thrilling experience with family and friends. So grab your group, get ready to solve puzzles, and let the adventure begin at Questroom!
Schedule your next quest online — or contact us by email [email protected] or phone at 310-707-1240. Our team can answer any questions you have and help you find the perfect room for your group. We look forward to seeing you soon for a thrilling quest!