Digital Escape Room Puzzle Idea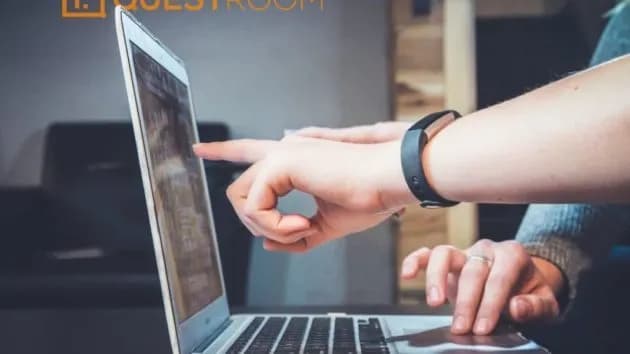 If you want to recreate the escape room experience for your friends, employees, colleagues, or students, it's easy to design your own digital escape room puzzles. All it takes is an internet connection and a bit of creativity. We've put together some basic digital escape room puzzle ideas and tips to get you started.
Have a Plan for Your Virtual Escape Room
Whether you're a teacher seeking creative ways to engage your students or just a friend looking to host a fun virtual game night, you want to start with a plan for your digital escape room.
Theme
First, every good escape room has a theme. It could be adventure, mystery, espionage, horror, humor, sci-fi, or even holiday-themed. You can even get really specific about it, like Old West, Steampunk, or train robbery. Choose a theme that will appeal to the participants of your escape room game.
Story
Once you have your theme, you need to build a story around it. A good story connects with participants on a visceral level, and even if your main goal is just to educate your algebra students, you need to have a storyline to make the whole thing engaging. For instance, maybe the participants are bank robbers attempting to open an increasingly complex series of vaults, or maybe they're intergalactic smugglers trying to escape from an alien prison. The sky's the limit.
Puzzles
Creating the puzzles is the most difficult part. They can come in the form of math problems, riddles, encoded messages, or even multiple-choice trivia questions (the correct letters of which make up a code that allows participants to advance to the next round). You want participants to solve puzzles that are challenging but that can still be completed with little to no outside help.
Use Google Forms to Build Your Digital Escape Room
The simplest way to create your own digital escape room is to use Google Forms. To do this:
Proceed to Google Drive (you may need to log in to your Google account)

Click the + sign and select Google Forms > Blank Quiz

Enter the title of your escape room in the Form Title field

Enter the storyline or general overview in the Form Description field

Click the "Multiple Choice" box and change the selection to "Short Answer"

Click the three dots in the lower right corner and select "Description"

Enter your puzzle text into the Description field that appears (the puzzle text should contain clues to a combination code, secret word, or hidden message)

Click the three dots again and select "Response Validation"

Click the "Number" drop-down menu and replace "Number" with "Text"

Enter the solution to the puzzle into the corresponding "Text" box

Click the + button to save and create your next puzzle Ideally, you'll want to create about four to five puzzles for a complete digital escape room experience. Each answer box serves as a digital lock that opens the next door, until the participants finally reach the end of the game — usually within an established time limit.
Combine Digital and Real-World Elements in Your Own Escape Room
If you're hosting the escape room event in person, you can easily incorporate real objects into the escape game. If the event is 100% remote, you may still be able to incorporate real objects by mailing them to participants.
If you're hosting the event in person, here are just a few ideas for the types of objects you might incorporate into your DIY escape room puzzles:
A hollowed-out book with a clue inside

Balloons with hidden messages inside

A locket that hides a secret code

A wall-hanging poster or portrait with subtle clues

A broken clock hanging inconspicuously on the wall with hands pointed at specific numbers And here are some examples of objects that can be mailed to remote players:

Seemingly blank pieces of paper with messages written in invisible ink (this can be done using water and lemon juice)

A diary with a combination lock

Photographs with hidden messages or clues

Handwritten letters that reinforce or complement the virtual clues

A homemade jigsaw puzzle (or multiple jigsaw puzzles) with important clues The idea is to connect your digital puzzles with your physical clues. For example, one of your Google Forms puzzles might include a riddle that points readers to a hollowed-out book on a nearby bookshelf. Concealed inside the book is a four-digit code that the players can enter into the Google Form to advance to the next clue or puzzle.
Make Your Digital Escape Room Unforgettable
As you build out your digital escape room idea, keep the following tips in mind, as they'll help to put your game over the top:
Set a time limit. Depending on the number and complexity of your puzzles, you might opt for 60 to 90 minutes — this is usually enough time to maintain everyone's attention without leaving them feeling rushed. The nice thing about Google Forms is that it will tell you how long it took each participant to complete the mission.
Offer a prize to the team or individual that finishes first. If the escape room is especially difficult, you could offer a prize to everyone who finished under the time limit.
Make it visual. If you're using Google Forms or another form builder, don't just use text. Include thematic images, photo clues, and other visual flourishes to keep it engaging.
Offer hints. Many live escape rooms will allow participants to request hints from the game master when they get stuck. Consider offering this perk, as it will help to move the game along and keep everyone from getting too discouraged.
Don't be afraid to seek outside help when designing your escape room. You can find sample puzzles and escape room templates online, and you can even purchase fully designed digital escape rooms if you're short on time or ideas. You can even find free digital escape rooms that are ready to go. Just search online for "digital breakouts," "digital escape games," or "digital escape rooms." And if your digital escape room proves to be a hit, consider organizing a trip to a real, in-person escape room. Some of the best escape rooms in Los Angeles are equipped with elaborate props, live actors, rich storylines, and even virtual reality elements. Nothing beats the experience of a real, physical escape room, and it's guaranteed to be an experience you won't soon forget.
In the meantime, it's easy to make a splash with your DIY escape rooms. Just remember to make it engaging, visually appealing, and imaginative.