Creative Escape Room Themes For a Fun Night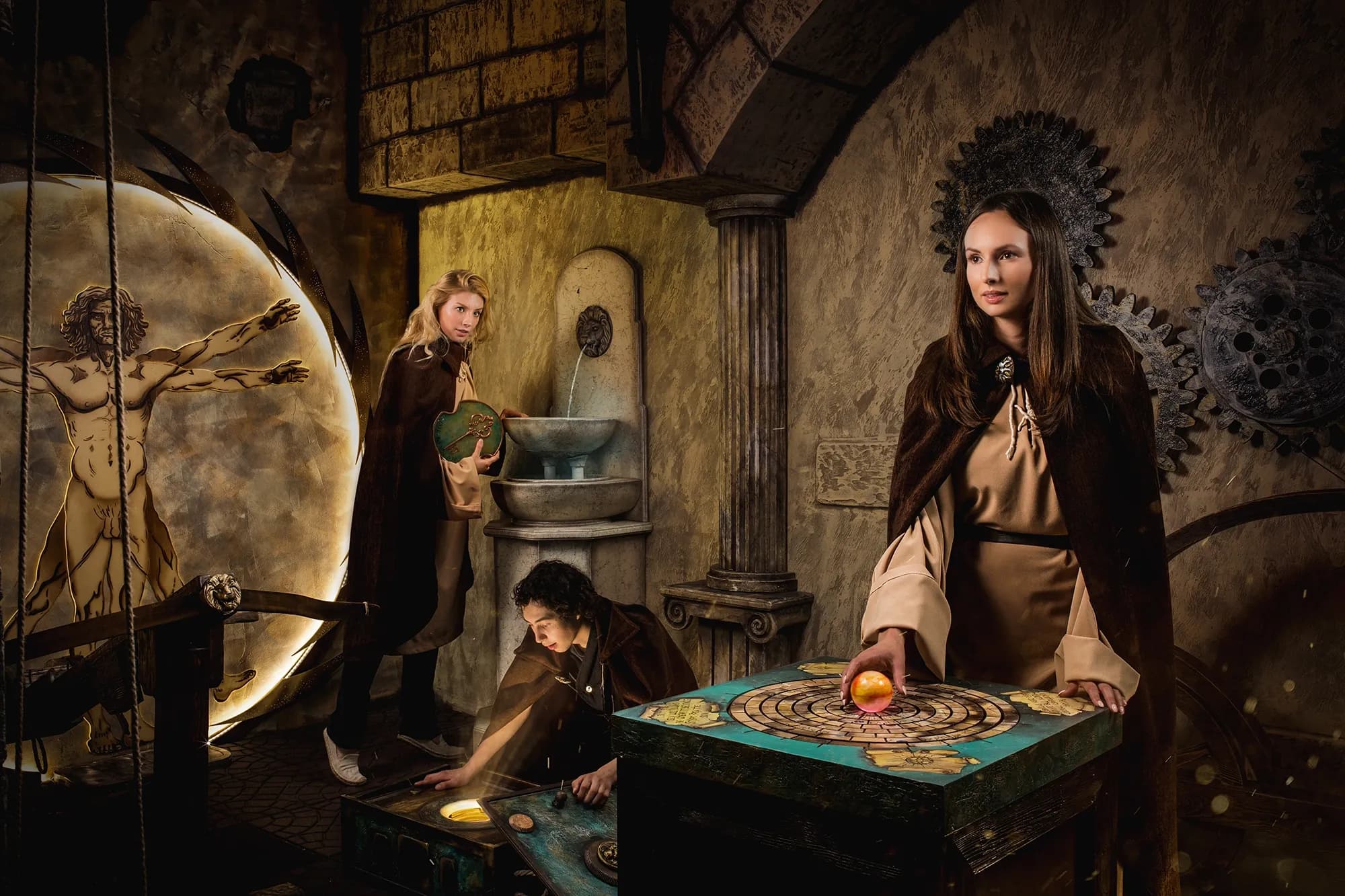 Escape rooms have come a long way since their beginnings, and there are now dozens of creative escape room themes to challenge even the most seasoned escaper. If you've already tried the classics—the murder mystery, jailbreak, the detective solving a crime, and the pure puzzle room, these themes will take the experience to a whole new level of thrill.
Elements of Creative Escape Rooms
Not-Your-Typical Scenario
The very first escape rooms focused on escaping through a certain door as the primary focus of the game. In these challenges, the guests would typically be escaping from an imaginary threat in the room, such as:
A bomb that is about to explode

A virus that is about to infect them

A zombie, vampire, or animal that is about to eat them

A serial killer who is about to commit another murder Today, escape rooms have developed into "quests" that verge on participatory theater. The focus here is on immersion and feelings of exhilaration as well as a high level of problem-solving. Escape room enthusiasts might encounter a scenario that requires them to:

Find a special item

Steal a treasure or valuable artifact

Solve a mystery

Place a call for help

Find a formula or cure

Locate a missing person

Deactivate a bomb

Prevent World War III To enrich the experience, decorations, temperature controls, and special effects might transport players to another time in history or another location in the world. For example, a jungle theme might make use of heating and humidifiers to simulate a tropical climate.
Sensory Puzzles
Growing budgets have allowed escape room operators to use sensory puzzles and clues in their escape rooms. For example, the best escape room in LA offers puzzles involving all five senses whereas the very first rooms used only sight and touch.
Hearing
Music, sound effects, and voiceovers can be used to enhance a theme and may also serve as clues. For example, a simple tune that repeats over and over again could be a clue that unlocks the next step when played on a keyboard.
Smell
Fragrance-based clues can be used to guide the players through the game, draw their attention to an area or object, or test their ability to match similar smells. Perfumer is an example of an escape room that uses the sense of smell.
Taste
Players may be asked to identify a white powder that was spilled at a crime scene by tasting a small sample. As some people experience fear and aversion to unknown tastes, operators most commonly use food substances like sugar or salt.
Touch
Touch is one of the senses that is used in every escape room (such as feeling for a key). However, this sense is heightened in creative escape room themes that use texture as a clue or require you to feel for movable panels in a wall.
Sight
While sight was always used in an escape room, players may encounter clues hidden in a darkened corner that can only be found by solving a code to switch on the light. Bright lights may also be used to draw the players' attention to a specific area of the room.
Important: While most people should be fine with sensory experiences, some effects could be problematic for certain individuals. For example, a person who experiences aversions to food or smells may prefer to avoid escape rooms that rely on these senses. Even more importantly, strobe lights can trigger a seizure in some people with epilepsy, so it's essential to read the description of the escape room before booking your game.
Physical Challenges
Another way escape room operators make their rooms more creative is to add escape game scenarios with a Survivor-style layer of challenge. For example, players might begin the game trapped in a cell with chains or tied up with a rope and have to break free before they can even start searching for the other puzzles in the room.
Large-scale escape rooms like Project Minotaur require guests to crawl through small spaces as they explore the interior world of the game, while others might involve climbing across a rock wall, swinging on monkey bars, or balancing on a beam. Guests should review the level of physical challenge before booking to ensure an experience that's appropriate for them.
Communication Skills
Team-building escape rooms are becoming a hit for corporate outings, community groups, and couples. These rooms use multiple strategies to get the players to work together, with several of these being found across the board:
The guests are placed in separate rooms at the beginning and have to find each other using verbal communication.
The players might be given a puzzle in which someone in the next room has to enter a code that can only be seen on the other side of the wall, requiring players in different rooms to work together.
The guests are tied to each other at the beginning of the game and have to work together to break free before they can advance to the main part of the game.
In a group of three, one player is blindfolded, one is muted, and the other is given noise-canceling headphones. The only way for the group to win the escape room is to work as a team.
Live Actors
Staff members or hired actors are sometimes used with creative escape room themes to provide additional information, create atmosphere, scare the players, or provide hints about where certain clues lead. Alternatively, TV sets may be used to broadcast speeches or messages provided by actors outside of the game.
An escape room with actors is likely to cost more than your average escape room due to the added costs of hiring staff. However, if you're into comedy or love the buzz of a Thrill Theater®, this feature could make for a great escape room experience.
Creative Escape Room Themes to Try
Ok, now let's dive into some escape room themes that experienced players might love to try. This list includes a bit of everything to cater to a diverse set of interests.
Alice in Wonderland
This one is great for kids and families that are celebrating a birthday or simply love to go out as a group. Step into a world of magic and intrigue that's filled with upside-down objects, backward clocks, sensory mirrors, tea party-props, and—of course—hearts. There are versions of this for adults, too, with spooky sounds and lighting effects.
In this escape game, you might be required to find the Queen of Hearts (who has been abducted) or find your invitation to the Mad Hatter's tea party (which was lost) before you're too late. Other versions have you finding a missing object before the Queen of Hearts finds out that it's missing… or it's off with your head!
Night at the Museum
This one is for the history buffs and Ben Stiller fans. You and your team members are trapped in the museum and have only an hour to escape or you'll permanently join the exhibit. Interact with dinosaur skeletons, cowboys and Indians, Neanderthals, and Teddy Roosevelt as you solve the puzzles needed to escape.
For the fans of Ancient Egypt, you could become part of the sequel with a Secret-of-the-Tomb-inspired room. The game starts with a glowing Sumerian tablet that you notice in one corner of the room and soon leads to misadventures with a playful T-rex.
Red Giant
Red Giant is another escape room for Egypt enthusiasts. You have dreamt your whole life of recovering the "Red Giant"—an enormous ruby that's trapped in the Pink Pyramid. However, all who have tried before have come back cursed.
This escape room experience takes you through a winding labyrinth of hieroglyphs where you'll be set on solving puzzles quickly and locating the Red Giant before the oxygen runs out and you come under the pyramid's curse. Be sure to look out for sliding panels or a hidden door in this historic Egyptian adventure.
Project Minotaur
Project Minotaur is a 1600-square-foot experience that is designed for thrill-seekers. In this thriller-style adventure, you will move through narrow passageways, crawl, climb, get wet, and interact with live actors.
This venue is not like most escape rooms. Instead of solving puzzles, you will be required to take on challenges in every part of this amazing course until you come out of the other side. If you've become hooked on the adrenalin rush that comes with life-sized gameplay, you'll find a whole new rush here!
Treat Yourself to an Experience You'll Never Forget
If you've become a pro at escape rooms and enjoy solving puzzles in unexpected ways, creative escape room themes will test your wits and provide a very memorable experience.
If it's very your first time playing, creative themes provide the opportunity to indulge your passion and exploit your unique skill set to beat the clock and escape the room.
With so many escape rooms now available, the sky really is the limit! Challenge yourself to a different experience for a day or night out you'll never forget.